Leak and Flame Detection
A design objective of any laboratory or experiment is to ensure that detection occurs quickly, and personnel are notified if a hydrogen leak or a hydrogen fire occurs. Flame and leak detectors are needed because gaseous hydrogen is colorless and odorless, and because the flame without contaminants is difficult to see and radiates little heat.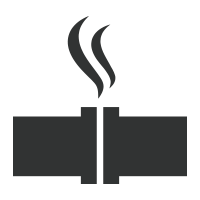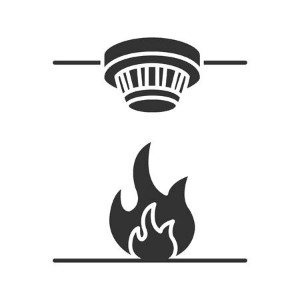 Considerations for gas and flame detector use include:
Location - The number and distribution of detection points and time required to shut off the hydrogen source should be based on factors such as potential leak rates, ventilation rates, and the volume of space in the laboratory. Locations to consider include:
Permanent installations in indoor storage facilities
Critical locations where leaks may occur (typically immediately above or where leaking hydrogen may be concentrated) during experiments or the operation of processes involving hydrogen
Response Time - Evaluate the expected response time of the detection system to ensure compatibility with the required response of the safety system.
Alarms - Detection signals should actuate warning alarms and actuate shutdown actions whenever practical. Audio and visual alarms should be provided as necessary.
Inadvertent Ignition - The hydrogen detection system should be compatible with other systems such as fire detection and fire suppression. The detection units should not be ignition sources.
Areas Without Detection - Portable hydrogen leak and flame detectors (e.g., thermal imaging camera or handheld flammable gas detector) should be available if permanent detectors are not installed.
Maintenance - Fire and gas detection systems should be tested and calibrated regularly according to an established scheduled.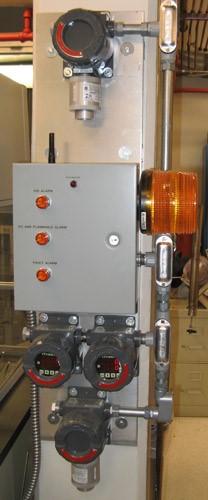 For more information, see Leak Detection and Flame Detection.